Classic Bondage Theater....
...On-line Video Streaming...
Crave Studios
NEW!!!

---
Purchase the DVD here!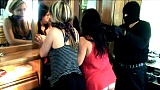 CSV-1
THE BREAK IN
60 MINS
Purchase Additional Viewing Time
Purchase a New Viewing Package
Email questions and
Real Video support issues to the

Classic Bondage Theater Support Team
All the images and real video clips contained herein are for the private enjoyment of the
viewer of this site only. They may not be resold, renamed, recropped, resized or otherwise reused
without permission. © 2002-2019 Classic Bondage Theater.